24 Hour Emergency Electrician Service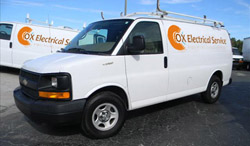 24/7 Emergency service in Round Rock, Georgetown, and surrounding areas
When your electricity goes out, you realize how dependent we are. Our refrigeration, HVAC, lights and for many, cooking ranges are inaccessible. This is the time to call Cox Electric. We provide 24 hour a day emergency electrician services, 7 days a week.
We are accredited members of Angie's List gold star award winners. We provide free electrical estimates.
When a electrical disaster strikes your house, you want professionally trained electricians that are licensed by the Texas Department of Licensing and Regulation. Cox Electric meets this criteria.
In Georgetown, Round Rock, and surrounding areas Cox Electric has electricians 24/7 to help you with any electric emergency.
Call now for 24 hour emergency electrician service! 512-876-8766
Residential Electrician Services (electrical repairs and installations)
Electrical Panel Upgrades
Replacement Panels
Sub panels
Replacement breakers
Service calls (major/minor repairs)
New and dedicated circuits
Appliance circuits
Lighting installations and design
Recessed can lighting
Security lighting (motion detectors)
Undercabinet lighting
Landscape lighting
Hot tub circuits/repairs
GFCI outlets
AFCI breakers
Surge suppression systems
Smart wiring
Tamper resistant outlets
Dimmers
Door bells
Smoke detectors
New construction
Remodels
Permitted projects
Home theater wiring
Surround sound
Fuses
Remote buildings
Chandleries
Accent lighting
Electric Meter bases
New home electrical installs
Fluorescent electric ballast
Timers
Photocells
Tree lighting
Electrical Inspection Reports
Replacement plugs and switches
Oven Circuits
Range Circuits
Dryer Circuits
A/C Circuits
Heating Circuits
Microwave Circuit
Grounding systems
Temporary poles
Meter Loops
Mobile Homes
Disconnects
Inspection reports to code
Electric Rewires
Workshops
Storage Units
Dishwasher circuits
Disposal Circuits
Advanced troubleshooting
Flickering lights
Track lighting
Advanced load calculations
Chimes
Service upgrades
Risers
Commercial Electrician Services (Electrical repairs and installations)
New electrical construction
Electrical Remodels
Tenant-finish out electrical projects
Permitted electric projects
Electrical Service upgrades
New breaker boxes
Subpanels
Emergency electrical repairs
Service calls (most repairs)
Timers
Photocells
EMS systems
Signs (Neon, HO, exit)
Control wiring
Ansul systems
Isolated ground circuits
New and dedicated circuits
Fluorescent lighting
LED lighting
High bay lighting
Pole lighting
Conduit installations
Electric Ballast
Generators
Motors and controls
Starters
Electrical Conduit Systems
Buss Duct
Switch gear
Distribution panels
Underground feeders
Advanced electric troubleshooting
Lighting retrofits
Fluorescent lighting
Motion sensors
Occupancy sensors
Transformers
K-factor transformers
Grounding systems
Surge suppression systems
Disconnects
EMS systems
Dedicated circuits
Voice/Data cabling
Voice/Data outlets
Electrical design
Load Calculations
Electric Service rebuilds
CT services
Meter loops(temporary electrical poles
Home Theatre/Data/Voice/Phone/Video Services
Phone jacks
Cable TV jacks
Routers/switches
CAT5 outlets
CAT6 outlets
Surround sound speakers
Video cameras
Home theater wiring
Wireless networks
Data jacks
Voice
Cabling
Cable trays
Fiber
Switches
New home prewire
Smart wiring
Phone systems